Thunder Wave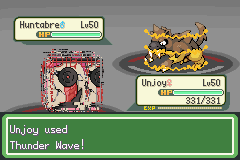 Battles
Type

 Electric

Category

 Status

PP
 20 (max. 32)
Power
 --
Accuracy
 90%
Priority
 {{{priority}}}
Target
Foe
Foe
Self
Ally
May affect anyone but the user
Availability
Thunder Wave is a non-damaging Electric-type move. It is a tutor move.
Thunder Wave has 90% accuracy and paralyzes the target.
Thunder Wave takes types into consideration, so cannot usually affect Ground-type Pokémon. If Thunder Wave's type is changed, it takes into consideration its actual type: for example, when affected by Normalize, Thunder Wave can affect Ground-type Pokémon and Pokémon with Lightning Rod, but can no longer affect Ghost-type Pokémon.
Description
Edit
Description
A weak electric shock that is sure to cause paralysis if it hits.
By leveling up
Edit
By tutoring
Edit
Community content is available under
CC-BY-SA
unless otherwise noted.