Stockpile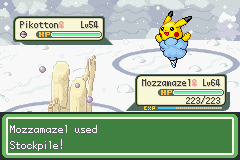 Battles
Type

 Normal

Category

 Physical

PP
 10 (max. 16)
Power
 --
Accuracy
 --%
Priority
 {{{priority}}}

Does not make contact
Not affected by Protect
Not affected by Magic Coat or Magic Bounce
Affected by Snatch
Not affected by Mirror Move
Not affected by King's Rock
Target
Foe
Foe
Self
Ally
Affects the user
Availability
Not a TM, HM or Move Tutor move.
Effect
Stockpile raises the user's Def and SpDef by one stage, while raising the Stockpile counter. This counter can go up to 3 and raises the damage dealt/healed by the moves Spit Up and Swallow. Using either of these moves resets the Stockpile counter.
The move does not currently work properly. Using Spit Up or Swallow doesn't reset the Def and SpDef increases, and using Stockpile when the counter is already at its maximum will still raise the user's Def and SpDef.
Learnset
By leveling up
By breeding
#
Pokémon
Type
Egg Group
Father
#114

Cacademon




Amorphous

#226

Lasslee

Amorphous

Human-Like

#279

Walruse

Water 1

#321

Wastenaut




Mineral

Field

#323

Cansumor

Amorphous

Field

#324

Snuffant

Field

Human-Like

#338

Quiboom

Water 1

Egg moves are currently not implemented!
Pokémon marked with an asterisk (*) must have this move chain bred onto them.
Bold indicates a Pokémon gains STAB from this move.
Italics indicates a Pokémon whose evolution or alternate form receives STAB from this move.
Community content is available under
CC-BY-SA
unless otherwise noted.