Spook Out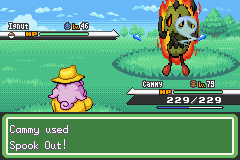 Battles
Type

 Ghost

Category

 Physical

PP
 20 (max. 32)
Power
 60
Accuracy
 100%
Priority
 +3

Does not make contact
Affected by Protect
Not affected by Magic Coat or Magic Bounce
Not affected by Snatch
Affected by Mirror Move
Not affected by King's Rock
Is a sound-based move
Target
Foe
Foe
Self
Ally
May affect anyone but the user
Availability
Not a TM, HM or Move Tutor move.
Spook Out is a damage-dealing Ghost-type move. It is a exclusive Pokémon Clover move.
Effect
Spook Out inflicts damage and always makes the target flinch, unless it has the Ability Inner Focus or Shield Dust. It has a priority of +3, so is used before all moves that do not have increased priority.
Spook Out will fail if not used on the first turn the user is out.
Description
Description
The user scares the target stiff. Only works on the first turn.
Learnset
By leveling up
Community content is available under
CC-BY-SA
unless otherwise noted.