Solar Beam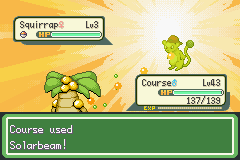 Battles
Type

 Grass

Category

 Special

PP
 10 (max. 16)
Power
 120
Accuracy
 100%
Priority
 {{{priority}}}

Does not make contact
Affected by Protect
Not affected by Magic Coat or Magic Bounce
Not affected by Snatch
Affected by Mirror Move
Affected by King's Rock
Target
Foe
Foe
Self
Ally
May affect anyone but the user
Availability
Solar Beam (Japanese: ソーラービーム Solar Beam) is a damage-dealing Grass-type move
Effect
Solar Beam does nothing on the turn it is selected, other than state that the user has taken in sunlight. On the following turn, Solar Beam will inflict damage, PP will be deducted from it, and it will count as the last move used. Once Solar Beam is selected, the user will not be able to switch out until it is disrupted or fully executed.
If Solar Beam is not fully executed, PP will not be deducted from it, and it will not count as the last move used. If the target uses Mirror Move during the turn that the user takes in sunlight, Mirror Move will copy the move that the user executed immediately before using Solar Beam. 
Solar Beam will not need a turn to charge if used during harsh sunlight. It will have its power halved if used during rain. 
Description
Description
A 2-turn move that blasts the foe with absorbed energy in the 2nd turn.
Learnset
By leveling up
By TM
By prior evolution
#
Pokémon
Type
Egg Group
Stage
#189

Phantash

Grass

Mineral

Bold indicates a Pokémon gains STAB from this move.
Italics indicates a Pokémon whose evolution or alternate form receives STAB from this move.
Community content is available under
CC-BY-SA
unless otherwise noted.