Softboiled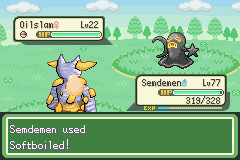 Battles
Type

 Normal

Category

 Status

PP
 10 (max. 16)
Power
 —
Accuracy
 —%
Priority
 {{{priority}}}

Does not make contact
Not affected by Protect
Not affected by Magic Coat or Magic Bounce
Affected by Snatch
Not affected by Mirror Move
Not affected by King's Rock
Target
Foe
Foe
Self
Ally
Affects the user
Availability
Soft-Boiled (Japanese: タマゴうみ Egg Lay) is a non-damaging Normal-type move. It is a tutor move taught by a shopkeeper in Animago Dept. Store 3F.
Effect
In battle
Outside of battle
Soft-Boiled can also be used outside of battle to transfer some of the user's HP to another party Pokémon. Each use will transfer 20% of the user's HP, up to the target's maximum HP. The move will not work if the user has 20% or less HP left.
Description
Description
Heals the user by up to half its full HP. It can be used to heal an ally.
Learnset
By leveling up
By tutoring
By a prior evolution
#
Pokémon
Type
Egg Group
Stage
#188

Ignut

Grass

Mineral

#189

Phantash

Grass

Mineral

Bold indicates a Pokémon gains STAB from this move.
Italics indicates a Pokémon whose evolution or alternate form receives STAB from this move.
Community content is available under
CC-BY-SA
unless otherwise noted.