Rapid Spin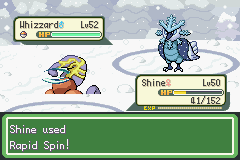 Battles
Type

 Normal

Category

 Physical

PP
 40 (max. 64)
Power
 20
Accuracy
 100%
Priority
 {{{priority}}}

Makes contact
Affected by Protect
Not affected by Magic Coat or Magic Bounce
Not affected by Snatch
Affected by Mirror Move
Affected by King's Rock
Target
Foe
Foe
Self
Ally
May affect anyone but the user
Availability
Not a TM, HM or Move Tutor move.
Rapid Spin (Japanese: こうそくスピン Rapid Spin) is a damage-dealing Normal-type move.
Rapid Spin deals damage. Afterwards, it removes binding moves, Leech Seed, and entry hazards on the user's side of the field. If the move fails due to the target being immune to it or protecting itself, the moves and hazards are not removed. If the attack wasn't executed at all because of the user hurting itself in confusion or being fully paralyzed, they aren't removed either. If the user faints right after using this move (for example because of Rough Skin) the hazards and moves also aren't removed.
Description
Edit
Description
An attack that frees the user from Bind, Wrap, Leech Seed, and Spikes.
By leveling up
Edit
By breeding
Edit
#
Pokémon
Type
Egg Group
Father
#007

Ejacasm

Water 1

Monster

#046

Wedgard

Monster

#063

Conchilla

Water 3

Field

#088

Juarecito

Human-Like

#118

Frosowl




Flying

#135

Chasumo

Human-Like

#358

Rolango




Field

Fairy

Egg moves are currently not implemented!
Pokémon marked with an asterisk (*) must have this move chain bred onto them.
Bold indicates a Pokémon gains STAB from this move.
Italics indicates a Pokémon whose evolution or alternate form receives STAB from this move.
Community content is available under
CC-BY-SA
unless otherwise noted.