Metal Sound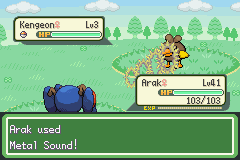 Battles
Type

 Steel

Category

 Status

PP
 40 (max. 64)
Power
 --
Accuracy
 85%
Priority
 {{{priority}}}
Target
Foe
Foe
Self
Ally
May affect anyone but the user
Availability
Not a TM, HM or Move Tutor move.
Metal Sound (Japanese: きんぞくおん Metal Sound) is a non-damaging Steel-type move.
Metal Sound lowers the target's Special Defense by two stages. Pokémon with the Ability Soundproof are not affected by this move.
Description
Edit
Description
A horrible metallic screech is used to sharply lower the foe's Sp. Def.
By leveling up
Edit
By breeding
Edit
#
Pokémon
Type
Egg Group
Father
#046

Wedgard

Monster

Egg moves are currently not implemented!
Pokémon marked with an asterisk (*) must have this move chain bred onto them.
Bold indicates a Pokémon gains STAB from this move.
Italics indicates a Pokémon whose evolution or alternate form receives STAB from this move.
Community content is available under
CC-BY-SA
unless otherwise noted.