Lovely Kiss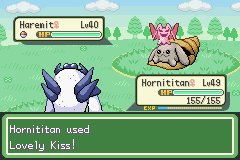 Battles
Type

 Normal

Category

 Status

PP
 10 (max. 16)
Power
 —
Accuracy
 75%
Priority
 {{{priority}}}
Target
Foe
Foe
Self
Ally
May affect anyone but the user
Availability
Not a TM, HM or Move Tutor move.
Lovely Kiss (Japanese: あくまのキッス Demon's Kiss) is a non-damaging Normal-type move.
Effect
Lovely Kiss causes the target to fall asleep.
Pokémon with Insomnia or Vital Spirit as their Ability are unaffected by Lovely Kiss. Pokémon under the effect of Sweet Veil are also unaffected by Lovely Kiss.
Description
Description
The user forces a kiss on the foe with a scary face that induces sleep.
Learnset
By leveling up
By breeding
#
Pokémon
Type
Egg Group
Father
#050

Seamapan




Water 2

#172

Mimimie




Water 2

Water 3

#224

Pollefin




Water 2

Grass

Egg moves are currently not implemented!
Pokémon marked with an asterisk (*) must have this move chain bred onto them.
Bold indicates a Pokémon gains STAB from this move.
Italics indicates a Pokémon whose evolution or alternate form receives STAB from this move.
Community content is available under
CC-BY-SA
unless otherwise noted.