Light Screen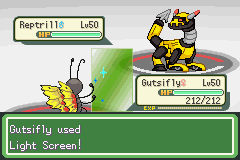 Battles
Type

 Psychic

Category

 Status

PP
 30 (max. 48)
Power
 —
Accuracy
 —%
Priority
 {{{priority}}}

Does not make contact
Not affected by Protect
Not affected by Magic Coat or Magic Bounce
Affected by Snatch
Not affected by Mirror Move
Not affected by King's Rock
Target
Foe
Foe
Self
Ally
Affects the user and the ally
Availability
Light Screen (Japanese: ひかりのかべ Light Wall) is a non-damaging Psychic-type move.
Effect
Light Screen halves the damage done to Pokémon of the user's party by special moves.
If multiple Pokémon are present on the user's side of the field, all of them are protected by Light Screen, but special damage is only reduced by a third rather than half.
Light Screen is removed from a Pokémon's side of the field if an opponent uses Brick Break or Defog on it (even if it is immune to Brick Break due to being Ghost-type), unless it is protected from the move or the move misses.
If Light Clay is held when Light Screen is used, it will extend the duration of Light Screen from 5 to 8 turns.
Description
Description
A wall of light cuts damage from Sp. Atk attacks for five turns.
Learnset
By leveling up
By TM
By a prior evolution
#
Pokémon
Type
Egg Group
Stage
#188

Ignut

Grass

Mineral

#189

Phantash

Grass

Mineral

Bold indicates a Pokémon gains STAB from this move.
Italics indicates a Pokémon whose evolution or alternate form receives STAB from this move.
Community content is available under
CC-BY-SA
unless otherwise noted.