Knock Off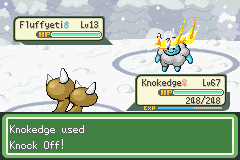 Battles
Type

 Dark

Category

 Physical

PP
 25 (max. 40)
Power
 65
Accuracy
 100%
Priority
 {{{priority}}}

Makes contact
Affected by Protect
Not affected by Magic Coat or Magic Bounce
Not affected by Snatch
Affected by Mirror Move
Not affected by King's Rock
Target
Foe
Foe
Self
Ally
May affect anyone but the user
Availability
Not a TM, HM or Move Tutor move.
Knock Off (Japanese: はたきおとす Knock Off) is a damage-dealing Dark-type move.
Effect
Knock Off inflicts damage and renders the target's held item unusable for the rest of the battle (even if switched out). The Pokémon is still listed as holding the item on the status screen and cannot obtain another item, nor can it restore the knocked off item with Recycle.
If Knock Off triggers an item (such as a Focus Band, Focus Sash, or Colbur Berry) after the attack, that item activates before Knock Off can knock it off (in the case of the Focus Band, which is not consumed, it will be removed after its effect has activated).
If an Exp. Share or Lucky Egg was knocked off, the Pokémon will still gain experience accordingly.
Even if the user faints when using Knock Off (such as due to the target's Rough Skin or user's Life Orb), it still knocks off the target's held item.
Description
Description
Knocks down the foe's held item to prevent its use during the battle.
Learnset
By leveling up
By breeding
#
Pokémon
Type
Egg Group
Father
#034

Armando

Amorphous

#041

Troubait

Monster

Water 2

#059

Chezetta




Amorphous

Human-Like

#181

Kuklux

Amorphous

#252

Sadrog

Grass

Monster

#326

Grimdak




Human-Like

Mineral

#347

Preasu

Monster

Field

#358

Rolango




Field

Fairy

Egg moves are currently not implemented!
Pokémon marked with an asterisk (*) must have this move chain bred onto them.
Bold indicates a Pokémon gains STAB from this move.
Italics indicates a Pokémon whose evolution or alternate form receives STAB from this move.
Community content is available under
CC-BY-SA
unless otherwise noted.