Heal Pulse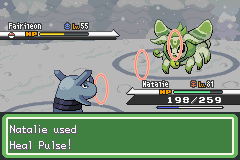 Battles
Type

 Psychic

Category

 Status

PP
 10 (max. 16)
Power
 —
Accuracy
 —%
Priority
 {{{priority}}}

Does not make contact
Affected by Protect
Affected by Magic Coat and Magic Bounce
Not affected by Snatch
Not affected by Mirror Move
Not affected by King's Rock
Target
Foe
Foe
Self
Ally
May affect anyone but the user
Availability
Not a TM, HM or Move Tutor move.
Heal Pulse
 (Japanese: 
いやしのはどう
Healing Wave
) is a non-damaging 
Psychic
-type 
move
.
Effect
Heal Pulse restores up to 50% (75% if the user has Mega Launcher) of the target's maximum HP. It will fail if the target's HP stat is already full or if it is behind a Substitute.
Heal Pulse bypasses accuracy checks to always hit, unless the target is in the semi-invulnerable turn of a move such as Dig or Fly.
Description
Description
The user emits a healing pulse that restores a target's HP by up to half.
Learnset
By leveling up
By prior evolution
#
Pokémon
Type
Egg Group
Stage
#080

Mennopaws




Undiscovered

Bold indicates a Pokémon gains STAB from this move.
Italics indicates a Pokémon whose evolution or alternate form receives STAB from this move.
Community content is available under
CC-BY-SA
unless otherwise noted.