Growl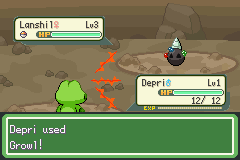 Battles
Type

 Normal

Category

 Status

PP
 40 (max. 64)
Power
 —
Accuracy
 100%
Priority
 {{{priority}}}
Target
Foe
Foe
Self
Ally
Affects all foes
Availability
Not a TM, HM or Move Tutor move.
Growl (Japanese: なきごえ Cry) is a non-damaging Normal-type move.
Effect
Growl decreases the Attack stat of all adjacent opponents by one stage. It does not affect Pokémon with the Abilities Soundproof, Hyper Cutter, Clear Body, White Smoke, or Cacophony.
Description
Description
The user growls in a cute way, making the foe lower its Attack stat.
Learnset
By leveling up
Community content is available under
CC-BY-SA
unless otherwise noted.