Follow Me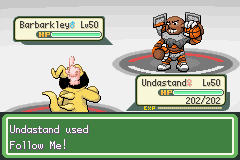 Battles
Type

 Normal

Category

 Status

PP
 20 (max. 32)
Power
 —
Accuracy
 —%
Priority
 +2

Does not make contact
Not affected by Protect
Not affected by Magic Coat or Magic Bounce
Not affected by Snatch
Not affected by Mirror Move
Not affected by King's Rock
Target
Foe
Foe
Self
Ally
Affects the user
Availability
Not a TM, HM or Move Tutor move.
Follow Me (Japanese: このゆびとまれ Stay With This Finger) is a non-damaging Normal-type move.
Effect
Follow Me has a priority of +2 and makes the user the center of attention, forcing opposing Pokémon to use their moves on the user rather than the intended target (even if it was a friendly target, unless it is a move that cannot target an opponent such as Acupressure or Helping Hand) for the rest of the turn. If a move cannot target the center of attention, it will be used on its intended target. It does not affect allies.
If the center of attention faints or switches out, it no longer draws moves.
Follow Me can draw moves with a charging turn (such as Fly and Solar Beam) if it is used on the turn the move would hit.
Follow Me draws Electric- and Water-type moves even if a Pokémon with Lightning Rod or Storm Drain is on the field. If another Pokémon on the same team is already the center of attention, the first user takes priority; if the first user is outside of range or stops being the center of attention, the attack will be drawn to the next center of attention.
Follow Me does not redirect Future Sight or Doom Desire.
Description
Description
The user draws attention to itself, making foes attack only the user.
Learnset
By leveling up
By breeding
#
Pokémon
Type
Egg Group
Father
#168

Mudpants




Field

#304

Fefeion




Bug

#353

Shiggydig




Field

#361

Tarditank




Bug

Water 1

Egg moves are currently not implemented!
Pokémon marked with an asterisk (*) must have this move chain bred onto them.
Bold indicates a Pokémon gains STAB from this move.
Italics indicates a Pokémon whose evolution or alternate form receives STAB from this move.
Community content is available under
CC-BY-SA
unless otherwise noted.