Flatter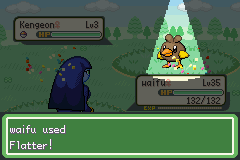 Battles
Type

 Dark

Category

 Status

PP
 15 (max. 24)
Power
 —
Accuracy
 100%
Priority
 {{{priority}}}
Target
Foe
Foe
Self
Ally
May affect anyone but the user
Availability
Not a TM, HM or Move Tutor move.
Flatter (Japanese: おだてる Flatter) is a non-damaging Dark-type move.
Effect
Flatter raises the target's Special Attack stat by one stage and confuses it. Even if the target is already confused, or cannot become confused due to Safeguard or Own Tempo, its Special Attack will still be raised.
Even if the target's Special Attack is already at +6 stages, it will still become confused.
Description
Description
Flattery is used to confuse the foe, but its Sp. Atk also rises.
Learnset
By leveling up
By breeding
#
Pokémon
Type
Egg Group
Father
#044

Pixila




Fairy

Bug

#052

Chompest




Amorphous

Mineral

#124

Chantruth

Human-Like

#285

Cakupple




Grass

Fairy

Egg moves are currently not implemented!
Pokémon marked with an asterisk (*) must have this move chain bred onto them.
Bold indicates a Pokémon gains STAB from this move.
Italics indicates a Pokémon whose evolution or alternate form receives STAB from this move.
Community content is available under
CC-BY-SA
unless otherwise noted.