Dragon Tail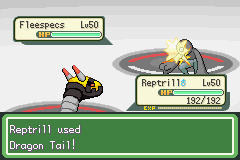 Battles
Type

 Dragon

Category

 Physical

PP
 10 (max. 16)
Power
 60
Accuracy
 90%
Priority
 -6

Makes contact
Affected by Protect
Not affected by Magic Coat or Magic Bounce
Not affected by Snatch
Affected by Mirror Move
Not affected by King's Rock
Target
Foe
Foe
Self
Ally
May affect anyone but the user
Availability
Dragon Tail (Japanese: ドラゴンテール Dragon Tail) is a damage-dealing Dragon-type move. It is a tutor move.
Effect
Dragon Tail inflicts damage and has decreased priority. In a Trainer battle, it will switch out the target to the next Pokémon in line that has not fainted (if there is one). In a wild Pokémon battle with a single wild Pokémon, this move will cause the battle to end if the user's level is equal or greater than the target's.
If using this move causes the user to faint (such as if the target is holding a Rocky Helmet or has the Ability Rough Skin or Iron Barbs), the target will not be forced to switch.
Dragon Tail will fail to end wild Pokémon battles or switch out the opposing Trainer's Pokémon if the target has the Ability Suction Cups, is under the effects of Ingrain, or has Substitute set up.
Description
Description
The target is knocked away, and a different Pokémon is dragged out. In the wild, this ends a battle against a single Pokémon.
Learnset
By leveling up
By tutoring
Trivia
The Rolango line can learn Dragon Tail through level-up but cannot learn it via Move Tutor.
Community content is available under
CC-BY-SA
unless otherwise noted.