Dazzle Gleam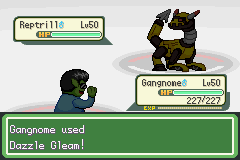 Battles
Type

 Fairy

Category

 Special

PP
 15 (max. 24)
Power
 80
Accuracy
 100%
Priority
 {{{priority}}}

Does not make contact
Affected by Protect
Not affected by Magic Coat or Magic Bounce
Not affected by Snatch
Affected by Mirror Move
Affected by King's Rock
Target
Foe
Foe
Self
Ally
Affects all foes
Availability
Dazzling Gleam (Japanese: マジカルシャイン Magical Shine), known as Dazzle Gleam in-game, is a damage-dealing Fairy-type move. It is a tutor move taught by a Lass in Animago City.
Effect
Dazzling Gleam inflicts damage to all adjacent opponents.
Description
Description
The user damages opposing Pokémon by emitting a powerful flash.
Learnset
By leveling up
Community content is available under
CC-BY-SA
unless otherwise noted.