Counter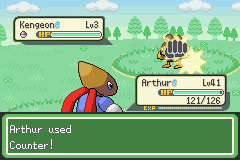 Battles
Type

 Fighting

Category

 Physical

PP
 20 (max. 32)
Power
 Varies
Accuracy
 100%
Priority
 -5

Makes contact
Affected by Protect
Not affected by Magic Coat or Magic Bounce
Not affected by Snatch
Not affected by King's Rock
Target
Foe
Foe
Self
Ally
Affects the user
Availability
Counter is a damage-dealing Fighting-type move.
If the last amount of damage done before the use of Counter is greater than 0 and was dealt by a physical attack, Counter will do twice as much damage to the opponent. Although Counter deals Fighting-type damage, its type does not alter the amount of damage it inflicts.
In double battles, Counter will hit the last opponent that dealt physical damage to the attacker. Counter cannot affect the user's ally.
Description
Edit
Description
A retaliation move that counters any physical attack, inflicting double the damage taken.
By leveling up
Edit
By breeding
Edit
#
Pokémon
Type
Egg Group
Father
#034

Armando

Amorphous

#071

Bacub




Field

#088

Juarecito

Human-Like

#091

Puppacti

Grass

Water 1

#135

Chasumo

Human-Like

#269

Ebining

Amorphous

#375

Skeletroll




Mineral

Amorphous

Egg moves are currently not implemented!
Pokémon marked with an asterisk (*) must have this move chain bred onto them.
Bold indicates a Pokémon gains STAB from this move.
Italics indicates a Pokémon whose evolution or alternate form receives STAB from this move.
Community content is available under
CC-BY-SA
unless otherwise noted.