Clear Smog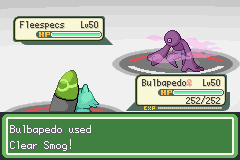 Battles
Type

 Poison

Category

 Special

PP
 15 (max. 24)
Power
 50
Accuracy
 —%
Priority
 {{{priority}}}

Does not make contact
Affected by Protect
Not affected by Magic Coat or Magic Bounce
Not affected by Snatch
Affected by Mirror Move
Affected by King's Rock
Target
Foe
Foe
Self
Ally
May affect anyone but the user
Availability
Not a TM, HM or Move Tutor move.
Clear Smog (Japanese: クリアスモッグ Clear Smog) is a damage-dealing Poison-type move.
Effect
Clear Smog inflicts damage and resets all stat levels of the target to 0; unlike Haze, this move only hits one target rather than afflicting every Pokémon on the field. This effect does not work if the foe is unaffected by the attack or if the foe is behind a Substitute. Clear Smog does not miss unless the target has just used Fly, Dig, Dive, or Bounce.
Description
Description
Eliminated all stats changes among all Pokémon engaged in battle.
Learnset
By leveling up
By breeding
#
Pokémon
Type
Egg Group
Father
#320

Bulbapedo




Grass

#327

Shroofle

Grass

#351

Acufront

Amorphous

Fairy

Egg moves are currently not implemented!
Pokémon marked with an asterisk (*) must have this move chain bred onto them.
Bold indicates a Pokémon gains STAB from this move.
Italics indicates a Pokémon whose evolution or alternate form receives STAB from this move.
Community content is available under
CC-BY-SA
unless otherwise noted.