Charming Cry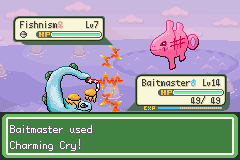 Battles
Type

 Fairy

Category

 Special

PP
 15 (max. 24)
Power
 60
Accuracy
 —%
Priority
 0

Does not make contact
Affected by Protect
Not affected by Magic Coat or Magic Bounce
Not affected by Snatch
Affected by King's Rock
Is a sound-based move
Target
Foe
Foe
Self
Ally
Affects all foes
Availability
Not a TM, HM or Move Tutor move.
Charming Cry is a damage-dealing Fairy-type move.
Charming Cry inflicts damage and bypasses accuracy checks to always hit, unless the opponent is in the semi-invulnerable turn of a move such as Dig or Fly. Pokémon with the Ability Soundproof are not affected by this move.
Description
Edit
Description
Letting out a charming cry, the user does emotional damage to opposing Pokémon. This attack never misses.
By leveling up
Edit
This move is actually Disarming Voice.
Community content is available under
CC-BY-SA
unless otherwise noted.