Calm Mind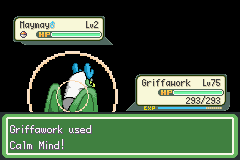 Battles
Type

 Psychic

Category

 Status

PP
 20 (max. 32)
Power
 —
Accuracy
 —%
Priority
 {{{priority}}}

Does not make contact
Not affected by Protect
Not affected by Magic Coat or Magic Bounce
Affected by Snatch
Not affected by King's Rock
Target
Foe
Foe
Self
Ally
Affects the user
Availability
Calm Mind is a non-damaging Psychic-type move. It is TM04.
Calm Mind raises the user's Special Attack and Special Defense stats by one stage each.
Description
Edit
Description
The user quietly focuses its mind and calms its spirit to raise its Sp. Atk and Sp. Def stats.
By leveling up
Edit
Community content is available under
CC-BY-SA
unless otherwise noted.