Beat Up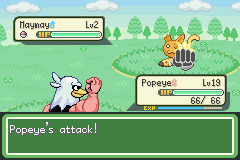 Battles
Type

 Dark

Category

 Physical

PP
 10 (max. 16)
Power
 10
Accuracy
 100%
Priority
 {{{priority}}}

Does not make contact
Affected by Protect
Not affected by Magic Coat or Magic Bounce
Not affected by Snatch
Affected by Mirror Move
Affected by King's Rock
Target
Foe
Foe
Self
Ally
May affect anyone but the user
Availability
Not a TM, HM or Move Tutor move.
Beat Up is a damage-dealing Dark-type move.
Beat Up inflicts damage on the target, with one strike for each conscious Pokémon in the user's party that does not have a non-volatile status.
Beat Up ignores changes to stat levels such as Swords Dance, but each strike does increase in power from Attack-boosting items like the Choice Band if held by the user.
If a Focus Sash, Focus Band, or Run Away activates before the last strike is dealt, the following strike will cause the defending Pokémon to faint.
Each strike has an independent chance of being a critical hit, as well as activating a King's Rock or Razor Fang or the ability Stench. The Sniper ability does not affect critical hits. Bide and Counter deal damage based on the last strike alone. A Focus Band can still activate repeatedly to prevent fainting, but each chance is independent.
If a Pokémon uses Beat Up on its partner in a double battle, the partner will attack itself (unless it suffers from a status ailment).
Description
Edit
Description
The user gets all party Pokémon to attack the target. The more party Pokémon, the greater the number of attacks.
By leveling up
Edit
By breeding
Edit
#
Pokémon
Type
Egg Group
Father
#004

Arabomb

Dragon

Monster

#032

Vandash




Human-Like

#165

Fluffyeti

Field

Fairy

#258

Gnarrk

Water 1

Water 2

#354

Signot




Bug

Field

Egg moves are currently not implemented!
Pokémon marked with an asterisk (*) must have this move chain bred onto them.
Bold indicates a Pokémon gains STAB from this move.
Italics indicates a Pokémon whose evolution or alternate form receives STAB from this move.
Community content is available under
CC-BY-SA
unless otherwise noted.