Baby-Doll Eyes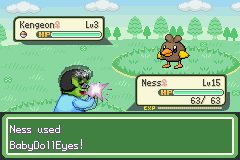 Battles
Type

 Fairy

Category

 Status

PP
 30 (max. 48)
Power
 —
Accuracy
 100%
Priority
 +1
Target
Foe
Foe
Self
Ally
May affect anyone but the user
Availability
Not a TM, HM or Move Tutor move.
Baby-Doll Eyes (Japanese: つぶらなひとみ Round Eyes) is a non-damaging Fairy-type move.
Effect
Baby-Doll Eyes lowers the target's Attack stat by one stage. It has a priority of +1, so is used before all moves that do not have increased priority.
Description
Description
The user stares at the target with its baby-doll eyes, which lowers its Attack stat. This move always goes first.
Learnset
By leveling up
Community content is available under
CC-BY-SA
unless otherwise noted.